Coming Soon - Can't hardly wait
Summer is coming (of course in the west side of the world, like the Netherlands or UK)!
Three good movies are coming SOON, to Indonesia.
Wicked!
Shrek 3
.When his new father-in-law, King Harold falls ill, Shrek is looked at as the heir to the land of Far, Far Away. Not one to give up his beloved swamp, Shrek recruits his friends Donkey and Puss in Boots to install the rebellious Artie as the new king. Princess Fiona, however, rallies a band of royal girlfriends to fend off a coup d'etat by the jilted Prince Charming. (imdb.com)
Pirates of the Caribbean: at World's End

.
Will Turner (Orlando Bloom), Elizabeth Swann (Keira Knightley) are allied with Captain Barbossa (Geoffrey Rush) in a desperat
e quest to free Captain Jack
Sparrow (Johnny Depp) from his mind-bending trap in Davy Jones' locker, while the terrifying ghost ship, The Flying Dutchman and Davy Jones, under the control of the East India Trading Company, wreaks havoc across the Seven Seas.(Yahoo Movies)



Transformers
.

The Earth is caught in the middle of an intergalactic war between two races of robots, the heroic Autobots and the evil Decepticons, which are able to change into a variety of objects, including cars, trucks, planes and other technological creations. (Yahoo Movies)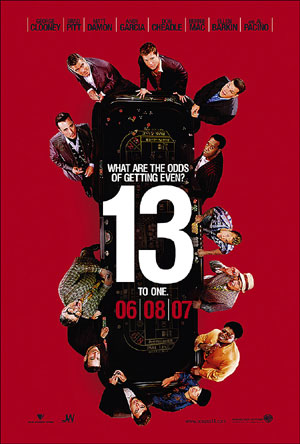 Ocean's Thirteen
.

What are the odds of getting even? Danny Ocean and the gang would have only one reason to pull off their most ambitious and riskiest casino heist--to defend one of their own. But they're going to need more than luck on their side to break The Bank.Ruthless casino owner Willy Bank never imagined that the odds were against him when he double-crossed Danny Ocean's friend and mentor Reuben Tishkoff (Yahoo Movies)